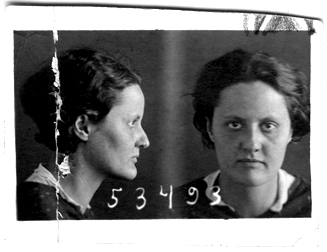 CURVY, BALLSY: R.I.P. EVA ZEISEL, 1906-2011
The great Eva Zeisel passed away on December 30th; she was 105 years old. The Modfather sends his sincere condolences to her daughter Jean Richards, and Zeisel enthusiasts everywhere.
We have long admired Zeisel's body of work, not to mention the astonishing longevity of her career. When the mid-century modern revival picked up steam in the 1980s, Zeisel quickly became a collector favorite, and a critic's darling once again; meanwhile, Zeisel kept on working, creating new designs, as well as reissuing old ones, for KleinReid, Nambe and Crate & Barrel, among others, her contemporaries all long deceased. Zeisel fanaticism reached new heights at the beginning of the 21st century, with important museum exhibitions, new books and even a documentary or two; the devotion of her ardent supporters has approached slavish levels.
Why? Beyond a deeply sincere appreciation for the work itself, Zeisel had a great story, and some pretty serious street cred. A real-life "Zelig" of 20th century design history, she showed up at the Exposition Internationale des Arts Decoratifs et Industriels Modernes (read birthplace of art deco) in Paris in 1925; later, she cooled her heels in Weimar Berlin in the early 1930s. Alas, life wasn't always a cabaret for Eva, who was later incarcerated for alleged conspiracy in Stalin's Russia in 1936 (mug shot directly above). Released in 1937, she traveled to Vienna; then, just as the Nazis arrived, she high-tailed it to Britain and got married before migrating to the US (cue the singing nuns), where her grit, point-blank exposure to seismically-important artistic movements, and well-honed expertise in all aspects of ceramic design, production and sales would produce remarkable second and third acts.
Zeisel's mid-century tableware designs were considered revolutionary, an immodest departure from traditional forms. Described as biomorphic, sensuous, fluid and curvy, her work had a "swoopy" quality that is romantic, sculptural and eye-catching. Add to this the notion of a female authority in the then male-dominated field of industrial arts, and one can see how Zeisel became a figurehead in the "transitional modern" design era (mid 1940s-early 1950s); like Russel Wright, she helped bring modern to the masses. She couldn't come up with anything that was embraced on the scale of Wright's juggernaut American Modern dinnerware line, but then Wright had a bit of a head-start on his home turf. Zeisel's twin dinnerware lines for Hall China, Century & Tomorrow's Classic (upon which several questionable, dorky-ass patterns were applied) sold well for years, but it is her Town & Country line, manufactured by Red Wing between 1947 and 1956, that is most coveted by collectors today. Conceptually similar to (and almost certainly influenced by) Wright's American Modern, Eva's T&C shapes were extraordinarily playful, and era-transcendent, while the glaze colors were very much of the period, which no doubt boosted sales. Bold and dramatic, yet casual, unfussy and honest, it's probably her design most closely related to the Hungarian peasant pottery that so inspired Zeisel to take to the clay in the first place. (The Modfather prefers Zeisel's whimsical yet thoughtfully-articulated "Pals" line bird shapes produced by Monmouth Stoneware in the mid-50s; these original wares are especially hard-to-find today. Not surprisingly, "Pals" was one of the first vintage Zeisel dinnerware offerings to be reproduced, and has been reissued at least 3 times so far...truly a classic for the ages, and we simply can't keep pieces in stock for very long.)
In direct competition for at least 2 decades during the golden age of American industrial design, there isn't much evidence that Wright and Zeisel developed a chummy camaraderie, in spite of the fact that Eva's son John attended the same elementary school as Wright's adopted daughter Annie (according to daughter Jean, Eva and Russel would see each other at parent-teacher meetings). The most startling line in Zeisel's NYT obituary is this statement, allegedly made by Zeisel to a writer at some unknown point: "Men have no concept of how to design things for the home...women should design the things they use." Given her background, we speculate that Eva didn't really believe this, and that the proclamation was merely intended to capitalize on feminist sentiment with an eye towards increased sales (if so, good for her). Still, that couldn't have endeared her much to Wright, assuming he was still alive at the time.
In addition to countless other prestigious honors, Zeisel was, somewhat ironically, the recipient of a 2002 "Russel Wright Award," which the Wrighterati created to honor "contemporary leaders who carry forward [Wright's] legacy..." (and to promote Manitoga, of course). Would Wright have approved? We'll never know for sure, but we're betting he'd rather Zeisel get a "Russel Wright Award," than the other way around.
All that said, Zeisel's place in the design pantheon is assured, and the world is a much sorrier place without her. Every time the Modfather takes a swig of Cabernet from one of his much-beloved Zeisel-designed Nambe wine goblets, he'll think fondly of Eva, and her outrageous defiance of the odds.
Rob Kenney
1/5/2012